Table of Contents
Course communication platforms are new but the need for them is not. This became clear through the difficult transition to remote teaching due to the pandemic. Evidently, efficient course communication plays a large role in student learning whether your course is in-person or online. Course communication has suffered as educators and students have been forced to rely on tools not built for education.
Businesses have software built for them, to serve their needs, via tools like Slack and Teams. Both team communication and course communication are equally important. So, shouldn't educators and students have software built for them? Enter: Course Communication Software.
What is a Course Communication Platform?
A course communication platform (CCP) makes course communication more transparent, organized, and efficient. It's easy to use, offers both asynchronous and synchronous communication, and supports courses of all sizes.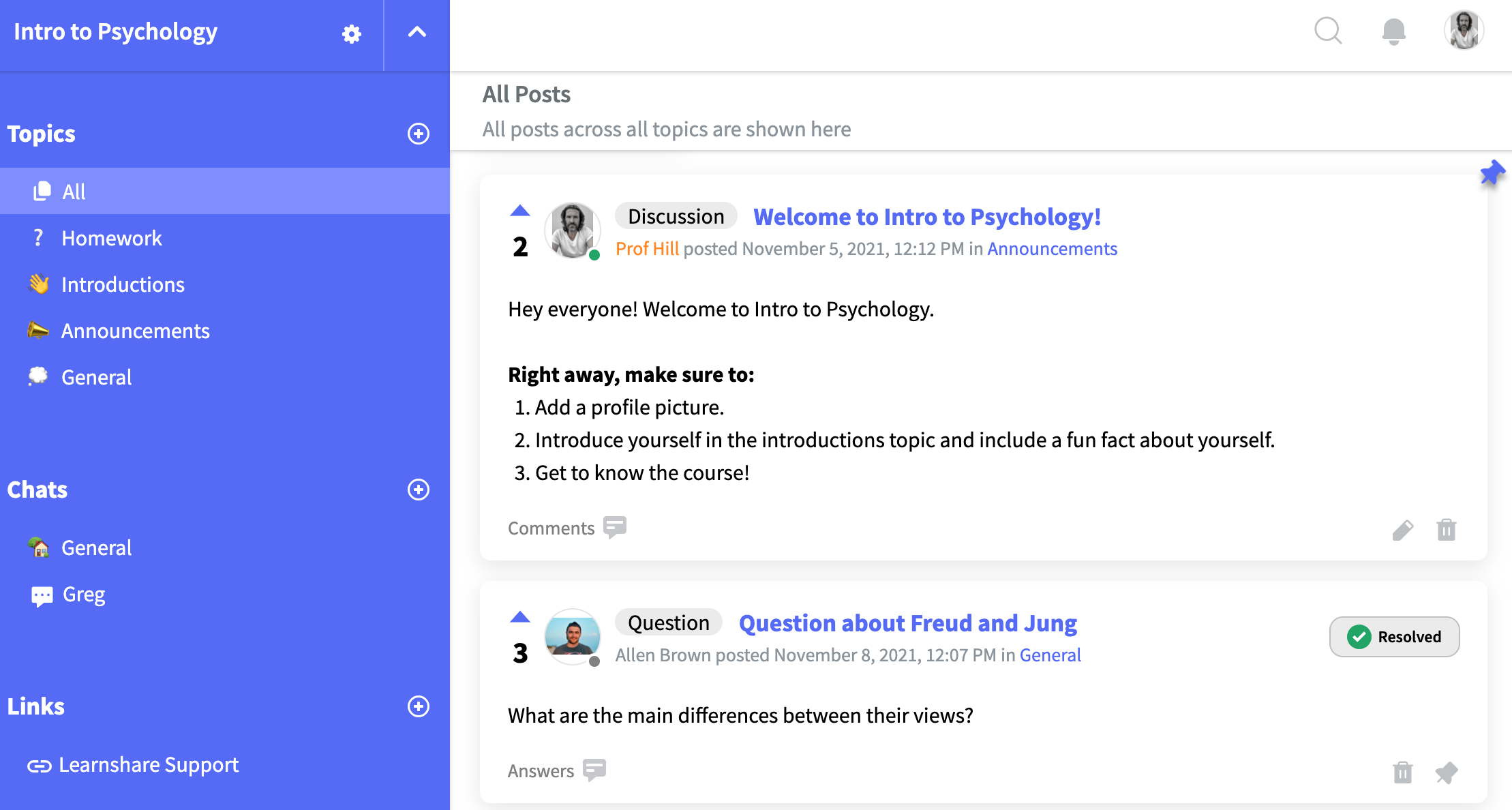 What does a Course Communication Platform do?
You may be thinkingーthis sounds interesting, but what does it actually do for my course? A course communication platform helps foster a better learning experience for students through:
Streamlined communication

Combine all communication channels into one. Increase transparency by eliminating siloed email chains.

Organized course discussions

Organize and archive all class discussions in one place. Students can revisit older class material and find exactly what they need when they need it.

Efficient Q&A

Instructors answer student questions efficiently in a modern and easy-to-use forum.

Increased participation, engagement, and collaboration

Students collaborate at higher rates and more consistently in chatrooms.

Why Business Communication Software and Discussion Forums aren't enough
Since the shift to online learning, there has been a huge surge in usage for tools such as Microsoft Teams, Slack, Campuswire, and Piazza. But, only Campuswire, Piazza, and Learnshare are built for educators and students. Slack and Teams do not have their incentives aligned with what the needs of educators are.
With Slack and Teams, important questions and class discussions are consistently lost under newer messages. Slack doesn't offer any form of asynchronous communication, eliminating any opportunity for in-depth and detailed discussion. Features desperately needed by educators and students will never be added, as these products aren't meant to serve the needs of higher education or cohort-based courses.
Piazza is a Q&A platform built for higher education that lacks a few things that a course communication platform needs. To start, Piazza doesn't offer synchronous communication (real-time chat) or have a very modern user experience. For this reason, there's far less overall participation on Piazza versus a course communication platform as student collaboration is limited to just Q&A.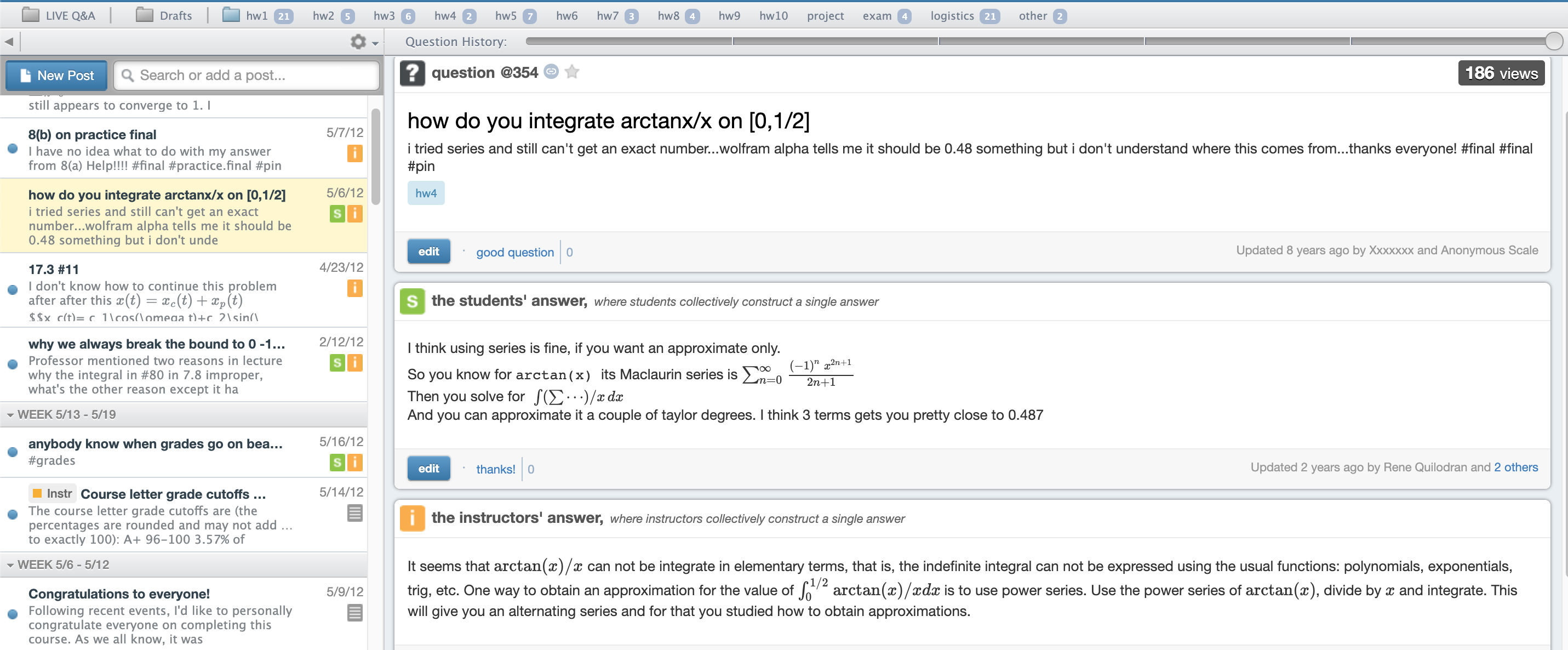 Real-time chat allows for students to develop a sense of community within a course. It gives students the confidence to ask questions and engage in discussions without the need to be overly structured. Providing students with a space to discuss their thoughts freely is important, especially for courses that are online or follow a hybrid model.
Campuswire is an online learning and teaching tool built for live online courses. It offers both asynchronous and synchronous communication. Campuswire offers a Zoom-like video tool for live lectures. This allows educators to teach and monetize their online courses with students from around the world. Therefore, although it's a tool built for educators, its main purpose is not for course communication.
Just like Slack exists solely for team communication, course communication deserves products built to serve this specific need in education.
Why Learning Management Systems aren't enough
Learning Management Systems like Canvas, Blackboard, and Moodle do have the scattered functionality across their product for enabling effective course communication. But, without willing and consistent student participation, long feature checklists don't matter.
Course communication software has one goal: to make course communication as efficient and as easy as possible. Since it does only one thing, it has to do it really well. Learning management systems by design offer so much functionality for all things learning and teaching. So much to the point where they can't optimize their product for this one specific benefit like a course communication platform does.
Getting Started With Course Communication Software
The beauty of course communication platforms is that they're so easy to use, you can even pick one up and start using it in the middle of your course! For example, with Learnshare, you can go from sign-up to creating your course and inviting students in under 5 minutes. No time-consuming onboarding required!
A course communication tool should not feel like a chore to use for educators or students. It improves course communication, transparency, and increases student collaboration. It supports courses of all sizes and benefits every type of course, whether online or in-person. Education deserves solutions built for the needs of both educators and studentsーand course communication software is exactly that.
If you're interested in seeing what a course communication platform can do, you can sign up and create your course on Learnshare for free.